Two weeks later: the A+D European Tour wrap-up!
You know how it is ... you're on tour, traveling through Europe, and you're starting to get really good at keeping up with this blogging thing. Then, all of a sudden ... it's over.
You're on a plane flying back home to the States, where you deliriously throw a Bootie party within hours of landing back in San Francisco, and you wake up the next day and Real Life – not to mention Jet-Lag – just sort of slams you in the face.
Did that European tour even happen?
Of course it did. After all, we've got the pictures and video to prove it!
So here we are, two weeks and three Bootie parties later, and we're finally getting around to posting a little wrap-up.
BOOTIE MUNICH
How great was it to finally get to meet the Bootie Munich crew? Here are these people we had previously never met – we had only communicated with via phone and email – and not only are they doing a Bootie party, but they are doing it extremely well! And this from a bunch of people who have never even BEEN to one of our Bootie parties in the U.S!
Yes, it was fucking weird. But I must say, it was extremely gratifying to be halfway across the world and DJing at a party that we helped create. We felt like proud parents!
Frank and Bootox (above) are the main masterminds behind Bootie Munich, and they were consumate hosts, taking us to the Hofbräuhaus for Bavarian beer, and basically just showing us a great time in Munich. At the Hofbräuhaus, we met a girl from Oakland. We put her on the guest list, and she came to Bootie Munich and had a great time! Random!
DJ Schmolli (below) has long been one of our favorite bootleggers, and we were the ones who first suggested that he should be a resident DJ at Bootie Munich. Every month he drives out from Vienna, Austria to rock the decks, and we were so psyched to finally get to meet him!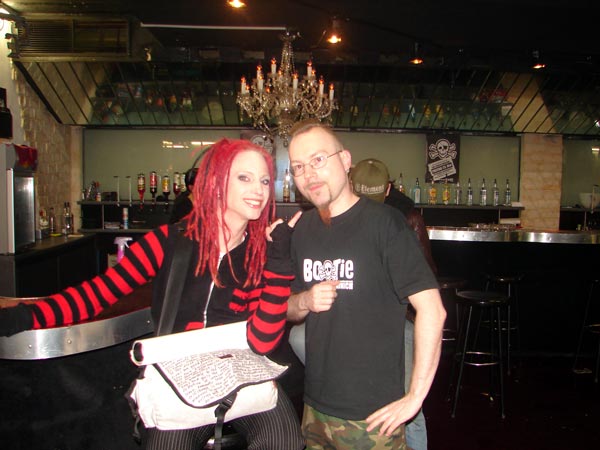 Speaking of meeting people, this entire trip was so socially intense! We met so many wonderful people. FM24 is one of them - he's the one on the right:
FM24 is a Bavarian mashup fan who took a bunch of great photos and videos in Munich, and also hooked us up with a little touring care package that included tea, mints, and homeopathic medicines, all of which were much appreciated. I'm happy to say that throughout the entire hectic 17-day tour, despite the erratic sleep schedule, jet-lag, and traveling, we never once got sick!
FM24 posted some videos from Bootie Munich – parts of the sound check, the midnight mashup show, and parts of the DJ sets from ourselves, as well as DJs Schmolli, Bootox, and DJ Y alias JY.
Check out more photos from Munich HERE!
And check out FM24's blog with even more photos HERE!
MASH-UP YOUR BOOTZ - BERLIN
We have to say, we LOVED Berlin. We just felt so at home there, and the neighborhood we were staying in – Friedrichshain – was filled with tons of people with colored hair, dreadlocks, and ... high-tech pimped out baby strollers! Pimp my stroller! It was weird. It was like a mashup of Noe Valley and Haight Street.
Plus, it was the only remotely affordable city on our tour ... the only place where I didn't feel like I was hemorraging money!
We instantly bonded with DJ Morgoth (aka André) and Alex, our host. The first night we were there, we spun at Mash-Up Your Bootz, a party at a small club that is a converted subway station entrance. Here's us with Morgoth and Dr. Waumiau:
The crowd was one of the most diverse we'd ever seen, and we spun one of our favorite sets EVER. What did we spin? Well ... to our surprise, DJ Morgoth is as much of a mashup obsessive as we are, and apparently has an insanely encyclopedic knowledge of bootlegs and mashups. And here we thought we were the only ones! We couldn't even begin to remember what all we played, and then he shocks us by not only posting our entire set list to GYBO, but also listing all the mashup titles and bootlegger credits!
So here's what we played in Berlin:
A plus D at Mash-Up Your Bootz:
1. Bootie Intro [A plus D]
2. Rammstein vs. Rob Base and DJ EZ Rock - It Takes Du [SMC]
3. Missy Elliot vs. Metallica - Enter The Bitch [Kurtis Rush]
4. AC/DC vs. Justin Timberlake - Sexy Hell [Divide & Kreate]
5. Rob Base vs. Prince - It Takes Two To Kiss [DJ John]
6. Eurythmics vs. White Stripes - Sweet Dreams Are Made of Seven Nation Army [DJ Poly]
7. Led Zeppelin vs. Snoop Dogg - Drop It Lie It's A Whole Lotta Love [Party Ben]
8. Kanye West vs. Beethoven vs. Walter Murphy - Beethoven's Fifth Gold Digger [A plus D]
9. Nine Inch Nails vs. Ace Of Base - She Wants Animals [Tripp]
10. Shaggy vs. Rage Against The Machine - Killing Boombastic [DJ Zebra]
11. Dr.Dre vs. Jet - Are You Gonna Be My Next Episode.mp3 [Cheekyboy]
12. C&C Music Factory vs. Ram Jam - Gonna make Betty sweat [Torero]
13. Gwen Stefani vs. Front 242 - Hollaback Headhunter [A plus D]
14. Benny Benassi vs. Depeche Mode - Satisfaction vs. Master & Servant
15. Rammstein vs. Kelly Clarkson - Since You've Been Rosenrot [DJ Schmolli]
16. Iggy Pop vs. Yaz – Don't Wanna Go [Braces Tower]
17. Jay-Z vs. Nena - 99 Luft Problems [Jay-Zeezer]
18. Nelly Furtado vs. Aerosmith vs. Run-DMC - Promiscuous Walk [A plus D]
19. Daft Punk vs. Queen - Another One Bites Da Funk [Party Ben]
20. Midnight Mashup Show: Smash-Up Derby Live Medley by Adrian
consisting of following trackz:
Dandy Warhols vs. Soft Cell - Tainted Like You
Franz Ferdinand vs. Talking Heads - Talking Franz
The White Stripes vs. Eurythmics - Seven Nation Army Dreams
Nirvana vs. Michael Jackson - Smells Like Billie Jean
Singing on a bar top!
21. L'Trimm vs. Gary Numan vs. The Beatles - My Other Car Is A Beatle [Jay-R]
22. Daft Punk vs. Dead Or Alive vs. Britney Spears vs. Justice - Britney: Dead or Alive [team9]
23. Dead Or Alive vs. Diana Ross - Spin Me Around vs. Upside Down [Shyboy]
24. Lipps Inc. vs. Scissor Sisters - Funky/Gorgous [DJ Spark]
25. Kool & the Gang vs. Ying Yang Twins feat. Pitbull - Celeshake [A plus D]
26. Michael Jackson vs. Justice vs. C&C Music Factory - Justice For Billie Jean [DJ Schmolli]
27. Cher vs. AC/DC - You Believe Me All Night Long [A plus D]
28. Sex Pistols - Anarchy In The UK (DJ Zebra Remix)
29. New Order vs. M.I.A. - $20 Monday [A Plus D]
30. Robyn vs. The Cure - Close To Konichiwa Bitches [A plus D]
31. Amy Winehouse vs. Britney Spears - Detox [King Of Pants]
32. Depeche Mode vs. Madonna - (Just Can't Get) Enough Music [Tristan Shout]
33. Cheryl Lynn vs. Fat Joe & Nelly - Real Back Poppin' [DJ Axel]
34. The Gossip vs. Elastica - Standing In The Way of Connection [A plus D]
35. L7 vs. CSS - Pretend We're Alala [The Illuminoids]
36. Metallica vs. Run-DMC - Tricky Sandman [DJ M.i.F]
37. Eurythmics vs. Lady Sovereign vs. Shiny Grey - Sweet Sovereign [Jay-R]
38. The Supermen Lovers vs. Nirvana - Come As The Starlight [Overdub]
39. Ministry vs. Kelis - Thieveshake [ToToM]
40. Blondie vs. The Doors - Rapture Riders [Go Home Productions]
41. Bee Gees vs. Usher - Stayin' Yeah [Batchelor Royale]
42. Pink Floyd vs. The BeeGees - Stayin' Alive In The Wall [Wax Audio]
43. Rolling Stones vs. Queen vs. Nirvana - Sympathy For Teen Spirit [DJ Moule]
44. Blondie vs. Madonna - Call Me Hung Up [A plus D]
45. Missy Elliott vs. The Cure - I'm Really Hot Hot Hot [A plus D]
46. Nirvana vs. Michael Jackson - Smells Like Billie Jean [McSleazy]
See? Incredibly diverse.
DJ Morgoth is coming to the U.S. to spin at Bootie SF and NYC at the end of September. We can't wait. Mash-Up Your Bootz at Bootie!
You know, we absolutely love it when other mashup parties pop up around the world. Believe it or not, we don't think that every mashup-themed party should be a Bootie party. We're not the Borg of mashup clubs.
With that said however, I must say I kinda wish that Morgoth's party was a Bootie Berlin! He just shares such a similar mind-set and aesthetic when it comes to mashups, and we really dug his eclectic taste and his fun-loving attitude. He's got the open-minded, up-for-fun Bootie vibe down!
I already blogged extensively about Berlin, so I'm just going to post a few more pix...
The gentrification of East Berlin is underway:
Metal is alive and well in Berlin:
Obligatory A+D "band photo in front of a chunk of the Berlin Wall:
My favorite day of the week: Vodka Day! (pronounced "wodka" in German!)
Can you believe these metalheads drink these foofy drinks?
BOOTIE COPENHAGEN
The Bootie party in Copenhagen was their first one, and while it was quite small, we still had an absolutely AMAZING time there. Mikkel, aka DJ M.i.F. (pronounced "mif," apparently, not "em-eye-eff"), and his brother Rasmus (below in pirate gear) were wonderful hosts ... and made us feel quite comfortable and at home. In fact, we had our first decent sleep on the tour in Copenhagen!
M.i.F.'s promoter partner, Fuller, was a big ball of energy. Is there anything this man has NOT done? He seemingly knew everyone in Denmark, or has at least worked with all of them once. He has his fingers in so many pies, and is definitely the kind of guy you want showing you around Copenhagen! Here's Fuller and M.i.F. at Bootie CPH:
I really wanted to drive across the Oresund Bridge - the long-ass bridge that connects Denmark and Sweden - just to be able to say that I've been to Sweden. But instead, a piece of Sweden came to us, in the form of Copycat, one of our favorite bootleggers, and wonderful chap as well! He shares our love and fascination of '80s music, and he speaks better English than most Americans we know!
My only regret about Copenhagen was this:
While in Denmark, we were introduced to Fisk, a Danish liquor made with those Fishermen's Friend mints. We had it in the car right after we were picked up at the airport, we had several shots at Bootie Copenhagen, and we even had some for breakfast the day we left. Mikkel had given us a bottle as a parting gift. But in the airport, we had to open up our luggage to grab some stuff. As we did, the bottle rolled out and shattered on the floor. :-(
However, in hindsite, this might have prevented the bottle breaking INSIDE of D's suitcase. Despite our best efforts to keep our suitcases within airline carry-on regulation size, they far exceeded carry-on regulation WEIGHT. Therefore, we had to baggage check our luggage every time we flew in Europe. A little scary, but it all worked out.
BOOTIE PARIS
Speaking of luggage, don't we look cute with our luggage? Notice our suitcases match our hair. Here we are at a fountain in Paris, where Marco, aka DJ ComaR, met us when we first arrived in Paris.
The first time we were in Paris, back in 2006, it was in the middle of November. It was chilly, rainy, and it would start getting dark by 4:30 PM. Our running joke was that all we saw of Paris was the inside of a nightclub. We even did all our sightseeing at night!
So this time, we were determined to actually try to SEE Paris. And the weather could not have been better. Ahh, so THIS is what they mean by "springtime in Paris!" It was BEAUTIFUL. Very romantical. All I wanted to do is walk around holding hands ... through the streets, along the Seine, in the park. D was wondering if I had been abducted and replaced by an alternate universe Robo-Adrian. I'm not exactly the most romantical person in the world.
One for me, one for D:
Bootie Paris was seriously off the hook. We probably each lost five pounds just sweating during our DJ set in the hotbox that was the basement of La Mechanique. But it was gratifying, with a crowd so vibrant and obviously excited about mashups, singing along and going absolutely CRAZY.
TONS OF AWESOME BOOTIE PARIS PHOTOS HERE
!
Midnight mashup show in Bootie Paris!

It seemed emblematic of Paris in general - shit is just HAPPENING here! Obviously, with things like Justice, Ed Banger, and Daft Punk going on, Paris is a hotbed of talent. But everywhere you go, you can just sort of feel that there's an excitement in the air. A lot of creativity and talent in Paris right now, and that feeling rubs off. We were insanely inspired.
Despite our internet addiction, we actually tore ourselves away from the laptop long enough to get some sight-seeing in, which was nice, making up for the last time we were in Paris. We never made it to the Louvre, but as Marco said, "It's just boring old stuff there."
We saw Moule at the Centre Pompidou!
We got really lucky while in Paris, because Marco's brother (who lives in the same apartment building) went away on holiday, and he let us have his apartment for two nights! Woo-hoo! We were even able to do laundry, which after nearly two weeks, was desperately needed!
Although what's the deal with the lack of dryers in Europe? Seems like everyone air dries their clothes. It ranks right up there with the lack of elevators in buildings too. We never walked up so many stairs as we did in Europe!
BLACK BALLOON, MISS-SHAPES, COVER UP – LONDON
Our last four nights on tour were in London, and it was INTENSELY social. We got absolutely no sight-seeing in, because all we did was DJ (three gigs!), shop at Camden Stables Market (only a 7-minute walk away!), and meet people for drinks (we didn't realize how many people we know in London!)
A store at Camden Stables Market:
Each gig in London was dramatically different from the other, and none of them were at mashup parties, which was an interesting change of pace from the rest of Europe.
Although, how ironic is it that the city that's the birthplace of the modern mashup movement has no real bootleg mashup party? People kept telling us that we should start up a Bootie London - and they're right, we should - but we would need to partner with the right people, just like we have in Paris, Munich, Copenhagen, and Boston. We couldn't do it on our own, that's for sure.
Black Balloon
was super stylish and very cool ... I very much enjoyed playing a set of mostly electro covers of '80s songs, with a few mashups thrown in too. Mika, the promoter, is doing a great job, and is definitely coming up fast in the London club scene. It's no surprise that our old friend Christian from San Francisco is Mika's flatmate! Birds of a feather!
Miss-Shapes
was fun ... I already blogged quite a bit about that, how fun it was to spin indie pop mashups for queer indie kids ... watching to see if they would "get it" or not.
And
Cover Up
was a blast too! We were pretty drunk by the time we went on, but it all went really well. Why were we drunk? (Well, why not?) Actually, we were drunk because we had organized a little meet-and-greet with a bunch of friends from the GYBO message board -- fellow DJs and bootleggers, all part of our mashup community.
Many we've met before (or even had guest DJ at Bootie) but we met some new people too, like Bryan from Flying White Dots and Jez from Celebrity Murder Party and Robb.
Hanging out with Jof and Phil:
It was great to catch up with old friends Eric Kleptone, Payroll, Timbearcub, Phil n' Dog, Ian Fondue, Steve Supercollider, Jof ... and Dsico and Ben Jamin earlier in the week. Am I forgetting anyone? And meeting cool new people like Cover Up's Sam and Charlie. Like I said: INTENSELY SOCIAL!
Last stop on the A+D Drinking Through Europe Tour - 4 AM, London, after-party at Charlie's apartment
WE WENT TO EUROPE AND ALL WE GOT WERE A BUNCH OF T-SHIRTS
Actually, that's not true at all. Although we did get Bootie Munich and Bootie Paris shirts, as well as Mash-Up Your Bootz shirts. It's so nice to meet other DJs and club promoters who understand the importance of branding! :-)
No actually, we went to Europe and all we got was a bunch of bonding time with some great people in our mashup/bootleg/DJ/club community. More than anything, it was just so amazing hanging out with and meeting all these people whose work we've long admired from afar.
It truly does feel that what we're doing with mashup culture works on a global level ... that music is a universal language, and that it has the power to bond and unite people across culture lines and national borders. We all share a common love of music -- and not just music, but the idea of fucking with that music, mashing it up, making it our own, making musical statements and jokes, and then sharing it with the world. We feel so connected with our European mashup community right now!
We just want to say
THANK YOU SO MUCH
to everyone who hosted us, put us up, fed us lunch, fed us dinner, let us crash in their bed, crash on their floor, gave us a solid internet connection, gave us CDs, gave us t-shirts, picked us up at the airport with beers in hand, made us laugh, let us do laundry, bought us drinks, put up with our horrible attempts at mangling your native language, listened to us bitch about GYBO, let us DJ at their club, and basically showed us a good time.
It was a trip we won't soon forget!
Me blogging while drunk in the middle of the night in London!
COMPLETE TOUR PHOTOS HERE!
Labels: tour